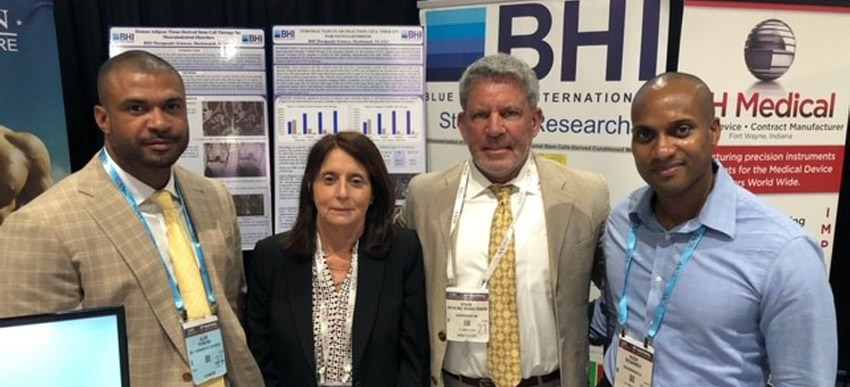 Brian Mehling, M.D. and his team attended the Annual Meeting of the American Academy of Orthopaedic Surgeons (AAOS) at the San Diego Convention Center, CA from August 31- September 3, 2021.
AAOS is the world's largest meeting of orthopaedic surgeons, researchers, and allied health professionals.
Dr. Mehling is the chief medical officer at BHI Therapeutic Sciences, LLC, a company that offers a novel method of arthritis therapy using a patient's own stromal vascular fraction (SVF) cells including mesenchymal stem cells.
BHI Therapeutic Sciences exhibited at the conference data outcomes from its program located at Malacky Hospital in Slovakia.
BHI is fully licensed by the Ministry of Health of the Slovak Republic to provide adipose stem cell therapies for orthopedic joint applications – knees, hips, shoulders, and ankles. Procedures utilize cutting-edge technology and adult stem cells only.
"Stem cell therapy is primarily intended for patients with a diagnosis of joint osteoarthritis, whether being a gonarthrosis or coxarthrosis of first and second degree. Malacky Hospital is the only medical institute performing treatment of hip and knee osteoarthrosis with stem cells using the technology of BHI," said Dr. Mehling.
Doreen Santora, CEO of BHI Therapeutic Sciences also attended the AAOS meeting added, "Malacky Hospital is a private hospital located in the western part of Slovakia, just a short car ride from Vienna. It offers high-quality, comprehensive, and customized healthcare solutions to organizations and individuals and it is staffed with expertly-trained medical professionals and is one of the premiere hospitals in Central Europe."